By accepting you will be accessing a service provided by a third-party external to https://educom.net/
"We're looking for new architectural expressions"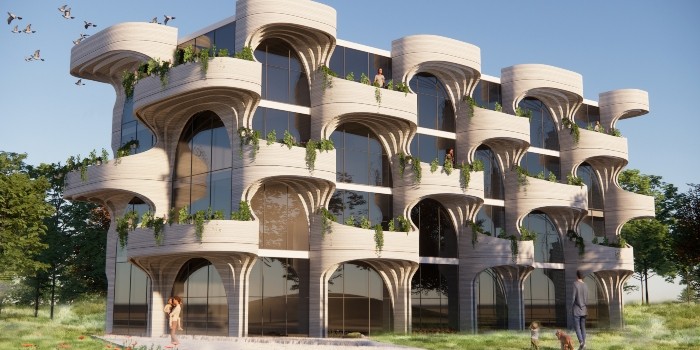 3D concrete printing will give architects more flexibility and new forms of expression when designing buildings, says Catherine Huang, partner in BIG—Bjarke Ingels Group.
"We're only on the cusp of figuring out how we can utilize 3D concrete printing in architecture and construction. It's an exciting time to be exploring the most meaningful application of the technology."
The words come from Catherine Huang, one of the 17 partners in management at BIG—Bjarke Ingels Group. BIG is part of the research project N3XTCON, where DTU is collaborating with Danish Technological Institute and a number of companies and knowledge institutions to develop and use the 3D concrete printing technology.
This is not the only project where BIG is involved with 3D concrete printing. In the summer of 2020, the architectural firm partnered with U.S. printer manufacturer Icon, which in 2018 printed the first, authority-approved, single-family home in Austin, Texas. Since then, several other printed houses have followed. In autumn 2020, BIG and Icon announced that they were developing proposals for a 3D-printed lunar habitat with funding from NASA, among others.
Greater flexibility
But back to Earth, where Catherine Huang sees exciting potential in the application of 3D concrete printing technology in architecture and construction.
"As architects, we have more flexibility when we design. It's hard to predict exactly how concrete printing will affect our design because we're only just exploring the possibilities. So I can't say something wildly futuristic like one day we're all going to live in round houses," says Catherine Huang, who elaborates:
"3D concrete printing opens up possibilities for the printing to become an expression in itself. It will also be possible to integrate solutions into the printed designs, which is also what we're testing in the design that BIG is printing as part of the N3XTCON project."
As examples of the integration of solutions into concrete-printed houses, the BIG architect mentions, among other things, balcony boxes, flower bowls, or furrows for various installations etc. As another example of how 3D concrete printing will affect the design of buildings, Huang cites how a wavy wall has been printed in the UK as a structure to potentially replace a double brick wall.
"It looked amazing, and it's amazing that with 3D concrete printing, the wavy structure is the most efficient way to build the wall," says Catherine Huang.
Sustainable construction
Huang also sees potential in 3D concrete printing as the way to increased sustainability, where construction can be built faster without physically wearing people out and where the consumption of materials is also minimized.
"As architects, we have to accept that one of the biggest issues we face is that of sustainability. The climate impact of concrete is something we have to deal with. With concrete printing, we only need to use exactly the required amount of concrete to maintain the quality of the structure. This can lead to much lower material consumption, less waste, and thus to a cleaner and more sustainable world," says Catherine Huang.
https://www.dtu.dk/english/news/2021/05/were-looking-for-new-architectural-expressions?id=c7faf4be-687f-494f-a822-d1dfa4ea20da