By accepting you will be accessing a service provided by a third-party external to https://educom.net/
GW Researchers' Plasma Thruster Reaches Space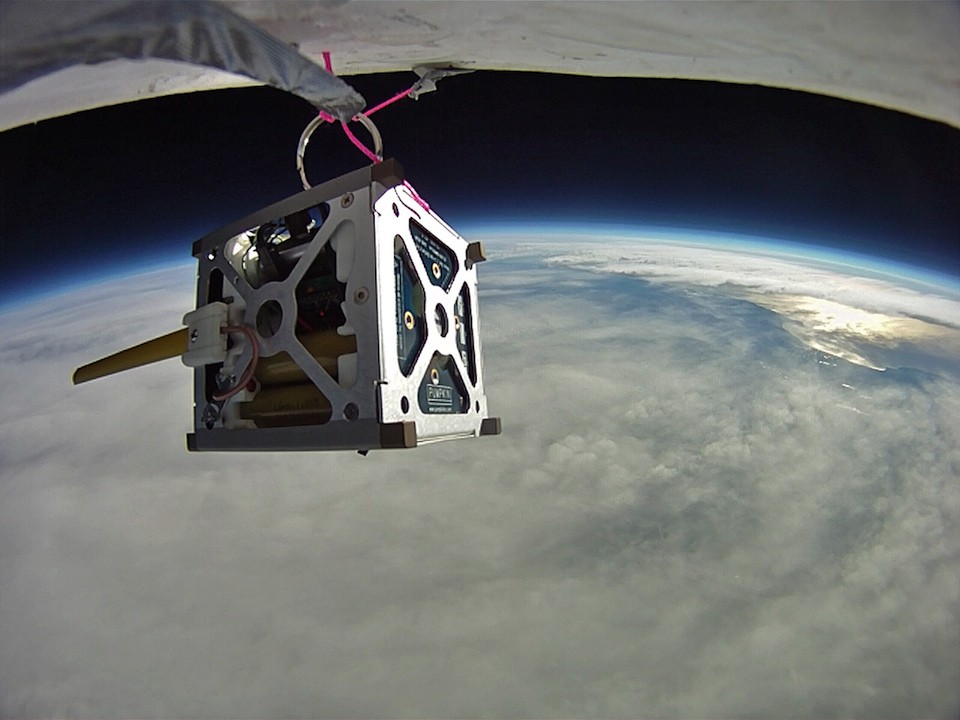 The technology can increase the lifetime and controllability of miniature satellites.
A micropropulsion system developed at the George Washington University successfully launched into space at the end of May. The technology could pave the way for controlling inexpensive satellites made out of objects found in your desk drawer or purse.
Researchers in Professor Michael Keidar's lab have been perfecting one-inch long plasma thrusters used to propel miniature satellites for the past seven years.
Their latest model, called the micro-cathode arc thruster, finally left Earth May 20, when a rocket carrying a satellite and four thrusters launched from Cape Canaveral, Fla.
The tiny, cube-shaped satellite, created by the U.S. Naval Academy, measures 10 centimeters on each side. Naval Academy researchers will track the spacecraft over the next three to six months until it eventually decays and burns into the atmosphere.
"This is the first mission of its kind to demonstrate whether this thruster can work for a miniaturized satellite," said Dr. Keidar, a professor of mechanical and aerospace engineering.
Micro- and nano-satellites are becoming popular tools for Earth-imaging, communications and other applications. Since they are cheap and easy to assemble, they offer an attractive option for those who wish to explore space with limited resources. In 2012, NASA launched a miniature spacecraft, called "PhoneSats," as part of a project to demonstrate that the insides of an ordinary cell phone could perform in space.
But there is a flip side to teeny spacecraft: They're nearly impossible to maneuver once in space.
"The problem is, because it's so small, there is no available propulsion. And propulsion is necessary to control the position of a satellite," Dr. Keidar said. "They will fly for about three months, come down and burn in the atmosphere."
To bridge this gap, Dr. Keidar and his team needed to find a way for very small levels of thrust to create on-orbit control. Their micro-cathode arc thrusters carry titanium as a propeller, which is converted into a gas-like plasma to provide propulsion. The plasma then accelerates and expands into a vacuum at high velocities, producing thrust. Such thrust helps to overcome drag and maintain the small satellite on orbit.
As a result, the satellite is capable of highly efficient maneuvers, Dr. Keidar said. The thruster could also enable a small satellite to survive for up to a year, much longer than its current three-month lifespan.
A ground station at the Naval Academy will communicate with the satellite over the next several months, while researchers at GW are hoping the thrusters will help the spacecraft maintain its desired orbit.
"Our primary goal is to find out if it can actually operate," Dr. Keidar said. "That would be a success of this mission."
https://gwtoday.gwu.edu/gw-researchers-plasma-thruster-reaches-space