By accepting you will be accessing a service provided by a third-party external to https://educom.net/
Giant babies return to reef in major step for forest-scale kelp restoration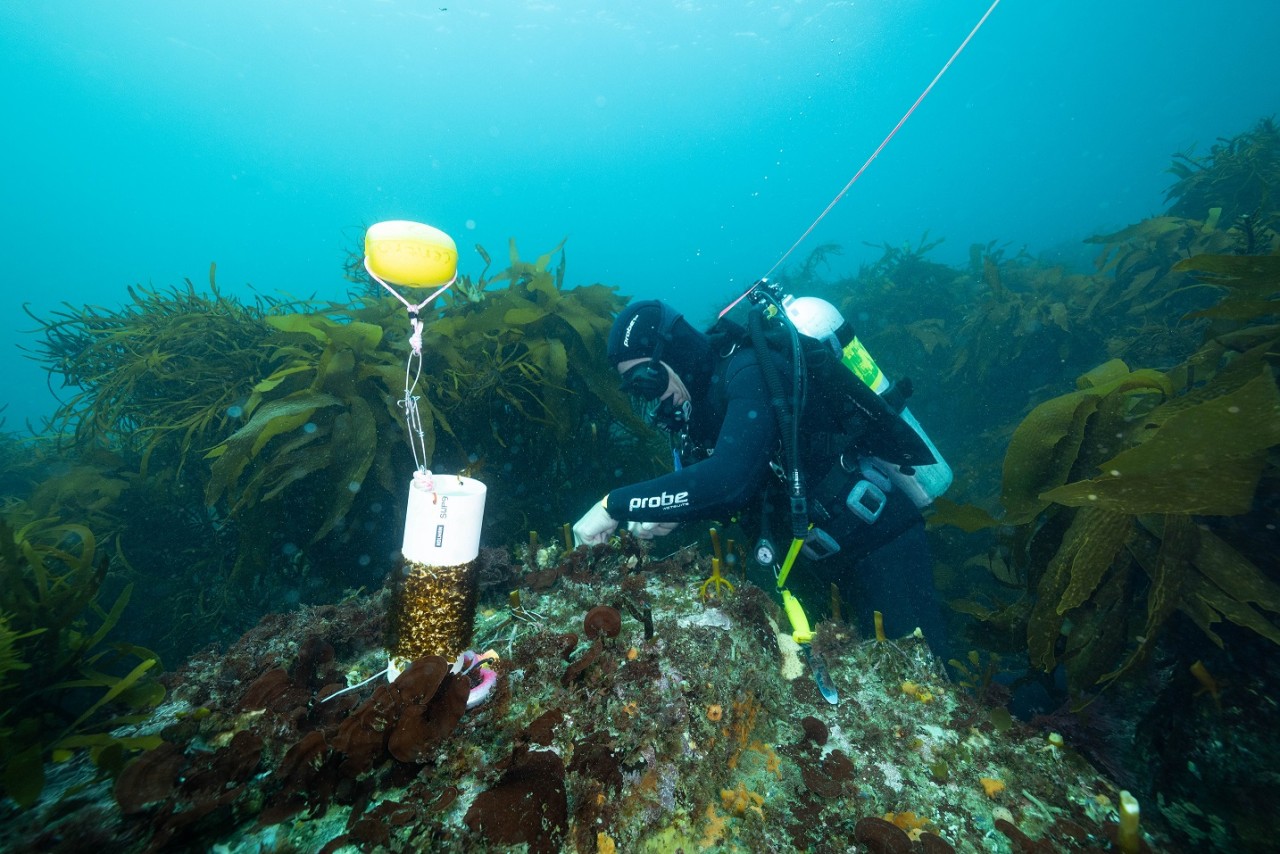 Baby giant kelps were planted across 7000 square metres of reef in southeast Tasmania last month, in the first attempt at 'forest-scale' kelp restoration in the Southern Hemisphere.
If successful, the unique restoration project will create an area resembling a natural giant kelp forest. It's the result of over four years of dedicated research by the University of Tasmania's Institute for Marine and Antarctic Studies (IMAS) marine ecologists, to investigate various methods and aspects of re-planting giant kelp.
IMAS researcher, Dr Cayne Layton, said the new project is making restoring larger areas of Tasmania's giant kelp forests a reality.
"Our early efforts at IMAS built a really strong foundation for kelp restoration work. This project brings all that knowledge together and is moving our work to an exciting new phase," he said.
Giant kelp forests have declined by over 95% in Tasmania since the 1970s, driven by climate change and a strengthening East Australian Current that is driving warm, nutrient-poor water further south. Giant kelp losses impact biodiversity, reef productivity and industries such as tourism and fisheries.
Eaglehawk Dive Centre tourism operator, Mick Baron, has experienced first-hand the impacts of giant kelp loss to his business over recent decades.
"We had kelp to the north and to the south, so thick you couldn't drive a boat through it. Within 20 years, it had all disappeared," he said.
The Dive Centre is now working with scientists to help giant kelp recovery, while seaweed producer Sea Forest's new state-of-the-art culturing facilities on Tasmania's east coast have produced the juvenile kelps ready for out-planting on reefs.
"Until now, planting has focused on small patches and growing 'just the trees'. This new collaborative project is the first time these methods have been applied at a forest scale," said IMAS researcher, Dr Scott Bennett.
The rapid growth rates of giant kelp has accelerated interest in kelp forest restoration.
"Giant kelp forests are an exciting habitat for restoration," said IMAS researcher, Dr Scott Ling.
"Unlike forests on land, which can take decades or centuries to restore, giant kelp grows so fast that we can potentially regrow a forest in a year."
https://www.utas.edu.au/about/news-and-stories/articles/2022/giant-babies-return-to-reef-in-major-step-for-forest-scale-kelp-restoration